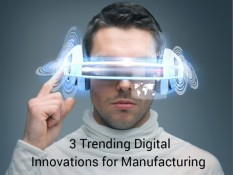 In this month's Innovator Spotlight we chatted with Jacob Goodwin from the Digital Manufacturing & Design Innovation Institute. Jacob shared how DMDII's Digital Lab for Manufacturing brings together the best minds in academia, high tech and government to develop innovations in digital design and analytics that will transform American manufacturing.
Listen in on the webcast or check out these 3 highlights of the conversation:
1. The Digital Thread
What if design talked to manufacturing BEFORE production? What if information flowed across the full product life cycle? Or throughout the entire supply chain? The digital thread will integrate data from the shop floor to the factory to the global marketplace – cutting cost and time to production.
2. Smart Machines
Networked machines will sense, collect, analyze and share production data, alerting each other of errors, inefficiencies, and changes to technical specifications. Big data and analytics are the future of manufacturing, leading to less downtime and higher quality products.
3. Global Manufacturing Standards
One key to success in digital manufacturing will be standardization. Machines must speak the same languages to properly interpret, respond to, and relay critical manufacturing data. And manufacturing specs must be consistent in order to support innovation crowdsourcing and other collaborative design efforts.
The future of American manufacturing is bright. Download the webcast to hear how digital innovation is spurring record-breaking growth and long-term job creation.
And check out our whitepaper on how world-class manufacturers prioritize their investments in these innovations to ensure they reap maximum returns.