New Features are a Click Away
Great news! The Decision Lens Developers have been hard at work to bring you new administrative features and an updated design for a better experience. Portfolio Owners and Reviewers now have access to the Activity Log – a detailed account of changes made to your portfolio. Our Design Team also made some updates to the Portfolio Overview page with a cleaner layout and new "Getting Started" section to effectively kick-off your portfolio prioritization workflow.
Activity Log
Portfolio decisions tend to be better when you're working with the latest data, right? The Activity Log is here to help. You'll be able to see when changes take place inside your portfolio and know who made them. We've added a search feature as well - look up specific objects, such as Criteria, Alternatives, and even users. This is a great way to stay up-to-date with any changes that may have been made to your portfolio, keeping your portfolio prioritization moving the right direction. Check out this video to the see the Activity Log in action.
Check out this video to the see the Activity Log in action.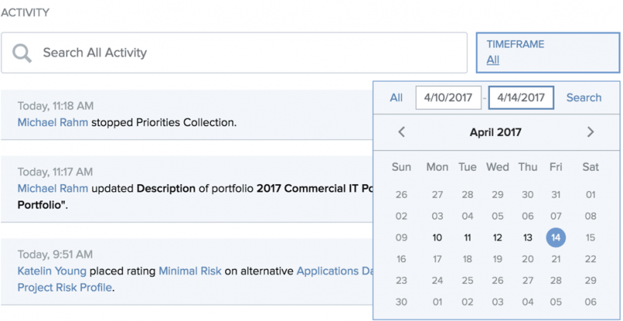 Improved Design and Workflow
The Portfolio Overview page has been simplified, but keeps all of the great portfolio information you've come to love. Number of Criteria, Alternatives, and Participants are all clearly displayed. You can even see whether you've enabled the collection of Priorities and Ratings.

We've also included a new Getting Started workflow section to help you know what you've started, and what you still may need to do. New options will be available as you move through the workflow and you can click on any of the available tasks to be taken directly to that section of Decision Lens.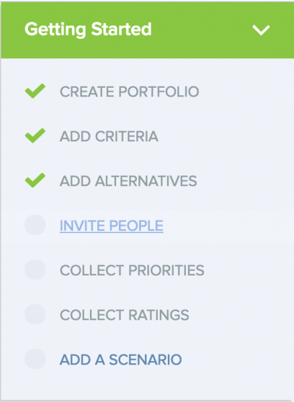 Where to Learn More
To get more information about this release, and everything else Decision Lens, check out our Knowledge Base at support.decisionlens.com. You can also access the Decision Lens Community from there and see how other like-minded portfolio professionals are using Decision Lens. Last, but not least, check out Decision Lens University. Earn awesome DLU badges while gaining valuable knowledge that will help you and your organization get the most from your portfolios. DLU is even PMI certified now! You can earn PDU's for both online and in-person training!