The most inspiring people I know ask the best questions.
Inspiration can come from many places. Your past. An afternoon walk. A delicious dinner with friends.
I found myself inspired during the March Creative Mornings Seattle event. As a new transplant from Arlington, VA, to the city of Seattle, keeping the Creative Mornings tradition was something very important to me. Candace Faber, Civic Technology Advocate for the City of Seattle, was the speaker that day and didn't disappoint! She shared her story from working with the U.S. Foreign Service, to organizing Hack Your Commute with ImpactHub, to surviving a potentially fatal car accident – and everything in between.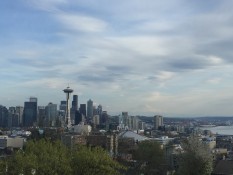 After coming to the realization that the idea of a dream job does not exist she relied on her smarts and energy to pursue a career and life with no regrets. Candace's passion to inspire and create social activism through innovation is contagious. I have no doubt that she is asking the tough questions to colleagues and community members to help them solve their problems and be better today than they were yesterday.
When a public sector or private sector organization get a bad reputation for being inefficient or lazy – great people, like Candace, work to change those perceptions. I predict 'Civic Technology Advocate' is going to be on numerous dream job lists for many years to come.
Why settle for doing something the way it's always been done when you can rewrite the script and make it better for those who follow.
The future is looking bright for the city of Seattle.
What is keeping you from asking the tough questions to get solutions that matter?