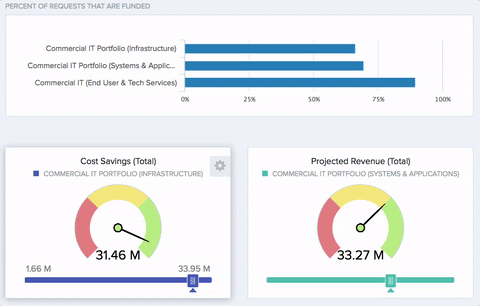 Hit the target, get rewarded. Miss the target, well, there are going to be consequences. We're all familiar with this model, but in many cases, hitting the target requires tradeoffs. Tradeoffs which we may or may not be comfortable with. Tradeoffs that could actually have worse consequences than not hitting the initial target.
In a perfect world with unlimited resources, tradeoffs wouldn't exist. You would simply throw more money or people at the problem. However, with reality having a firm and unrelenting grip on most situations, understanding the tradeoffs needed to hit performance goals is necessary.
Our newly released Impact Dashboard helps you explore your portfolio data and determine the trade-offs needed to reach specific targets. You can develop and investigate scenarios across multiple portfolios and perform on-the-fly what-if analysis for new insights into your performance goals.
State Departments of Transportation (DOTs) are great examples of organizations expected to hit performance goals (Federal legislation like the FAST Act and MAP 21 require it) and make tradeoffs based on limited resources. Utah DOT and other Decision Lens customers use the Impact Dashboard to overcome tradeoff challenges and understand how changes to a metric or portfolio can impact others. In fact, John Thomas, Asset Management Director for UDOT, recently discussed the challenges they face and how they're using Decision Lens to view tradeoffs and performance across portfolios. You can watch that here.
The Decision Lens Impact Dashboard is sure to deliver new insights and better portfolio performance. To learn more, visit the dashboard page.