Dr. Alison Denton was recently a guest lecturer at the University of California Berkeley Haas School of Business.
At the invitation of Dr. Don Moore, Alison presented Decision Lens' project prioritization approach and solution to over 70 MBA students. Alison's presentation was an extension of the Management of Organization's (MOR) focus of the MBA program.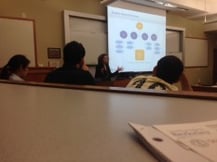 The university's MOR program trains students at levels such as undergraduate, MBA, PhD., and executive levels; to understand how organizational design, strategy, culture leadership, compensation, decision making structures, and other human resource characteristics influence organizational performance.
Decision Lens provided an example of how technological solutions can be used to best frame organizational decision making.