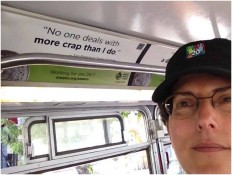 And in the subway tunnel, boiler room, and power station.
Every day, people ignore these unseen assets that sustain their daily lives. They overlook the importance of the power cables, water mains, sewage lines, fiber optics, HVAC, transit rails, bridges and roads that make our society possible.
It's easy to take for granted that these services are "always on" without thinking through the massive planning efforts required to maintain and improve service performance. So capital planners do their best to understand when customers lose patience with the delays, downtime and budgets required to serve them year and year.
San Francisco recently launched a hilarious campaign to drum up respect for their capital improvement projects. Taglines such as "No one deals with more crap than I do" and "You can't live a day without me" have garnered lots of laughs and appreciation for their sewer system (http://bit.ly/19BMXKX)
As 2013 closes, let's take a moment to thank the capital improvement and infrastructure management teams – our unsung heroes that dedicate themselves to making us a productive society!