The word "creative" can be an intimidating title to hold and even more daunting to defend. As a life-long procrastinator, it's easy for me to point to "the creative process" for taking a little extra time to reach my deadlines.
When attending Inbound15 in September, one of my favorite sessions was Unleash Productive Creativity by Banishing Your Inner Critic by Denise R. Jacobs. Before I even sat in her talk, I was hooked.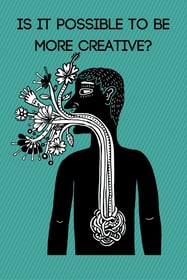 The main goal of Denise's talk was to teach the audience how to make our creative process more fluid and more importantly, making sure we don't stand in our own way.
Many times our internal critics are the biggest obstacles to achieving our goals. We also don't give ourselves the credit we are due. Denise recommends saying NO to comparisons to other people and to remember prior successes to keep the momentum strong.
While it was very tempting to merely self-identify with my favorite version of procrastination – I appreciated Denise's desire to share her ideas on productive creativity methods.
Here are some ways I like to keep my creative muscles in shape:
Get out of your comfort zone. Go to lunch with a different department. Volunteer for a cause that is something you know little about. You will be surprised to learn how your colleagues or strangers approach problems and I'll bet you will also be able to provide a new perspective.
Attend a CreativeMornings gathering. You will not regret this. Imagine dozens of thinkers and creators – fueled by coffee and donuts – meeting in cities across the globe to inspire and be inspired. Warning: registration fills up fast.
Turn up your favorite tunes [or podcast] and dance in your kitchen. This recommendation is two-fold – learn about a new topic AND get your blood pumping. Stepping away from our phone and laptops is proven to boost brain activity and save your precious eyes.
How do you fight your inner critic to keep your creativity strong?